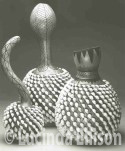 A basic rhythmic accompaniment to many styles of music is a gourd rattle.  These large ones are called Shekere (SHEK-er-ay), Hosho, or Axatse (a-HAHT-sah), and are distinguished by their unique bottle-gourd forms which have been hollowed out to increase both the resonance and playing options of the instrument.  The woven bead network hitting and swooshing over the hard resonant gourd creates its distinctive sound.  The bottom of the Shekeres is left exposed for slapping or thumping it like a drum.  The tones will vary depending on the size and shape of the gourd.  I use either brass beads or traditional African cowrie shells to create this decorative network.  Other materials are available, please inquire.
"Lucinda has always produced top quality instruments with a personal touch. I have four different instruments and I use them regularly on sessions and live, including my own personal projects. I think they're fantastic and I highly recommend them to any musician."   
- Jim Roberts, Drummer, Percussionist, Kalimba Studios
"You can feel the love Lucinda puts into her work when you hold and play her Embira's™ …they are inspiring. The members of our percussion ensemble, ROTA, fight over the shekere she made every time I bring it along…the thing really roars!"
- Steve Wright, Master Drum builder, Wright Hand Drums
"Lucinda is a recognized trendsetter, whose innovative percussion designs are burnished in elegance, commanding a focal point in every setting, from musical classroom to the theatre stage. Her mbira are the pinnacle of craftsmanship, a new breed in artistic expression."
- Voyce McGinley III, Percussionist, Educator
Rattles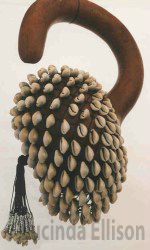 A basic rhythmic accompaniment to many styles of music is a gourd rattle.  These smaller dipper gourds are decorated with either brass or glass beads, or cowrie shells.  Here the woven bead network is gathered in a knot at one end, which may be used in one's playing technique by snapping or spinning it.  Each has a distinctive feel and sound as every gourd is unique.