Players and Links
Maurice White,
(Earth, Wind & Fire)
Philip Bailey,
(Earth, Wind & Fire)
Will Calhoun
(Living Colour,  Mos Def)
Vernon Reid
(Yohimbe Brothers, Black Rock Coalition, Living Colour)
India Arie
Daniel Lanois
Pat Metheny
Herbie Mann
Regi Wooten
Tom Roady
Howard Levy
David Hykes,
Harmonic Sounds pioneer
Jonathan Goldman,
Chant master
Kirby Shelstad
Tom Teasley
Peter "Madcat" Ruth
Tim Timmermans
Bill Wiggins
Essra Mohawk
Jim Lauderdale
Jim Roberts
Barbara Lamb
David Egan
(File')
Jonathan Yudkin
N. Scott Robinson
Steve Wright
(Wright Hand Drums)
Ron Samuels
(Marimba One)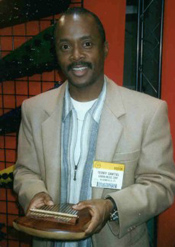 Terry Santiel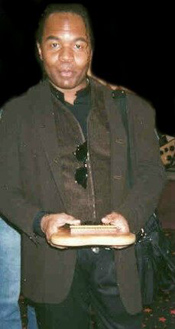 Jonathan Moffet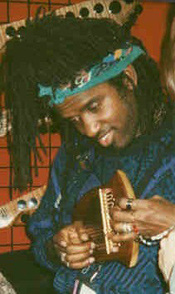 Futureman - Roy Wooten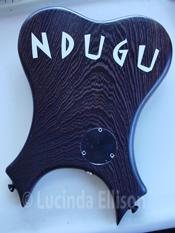 "My Embira™ by Lucinda Ellison solved all of the acoustical problems I had previously. The design works well for me. I can now record right with the other  musicians and play live and be heard. I use it with the LA All Stars, as well as a group I co-lead with Patrice Rushen called 1+One. It will be featured on my upcoming album."
- Ndugu Chancler, Drummer
Ndugu Chancler
Jonathan Moffet
(Michael Jackson)
Arthur Hull
Brent Lewis
Kalani
R.E.M.
Jason Newsted
(Metallica)
Rudy Costa
(Taj Mahal)
Richard Bona
Michael Pluznick
Allen Otte
(Percussion Group Cincinnati)
The Kingston Trio
Glen Fittin
Arvin Scott
Nery Arevalo
Paulo Mattioli
Sweet Honey in the Rock
Mustafa Abdul-Aleem
David & Roselyn
Nashville Bluegrass Band
Neal Casal
Tish Hinohosa
Chartwell Dutiro 
(Thomas Mapfumo)
Kala Jojo
Brother Blue, storyteller/poet
Henry Heine
(The Fluffers)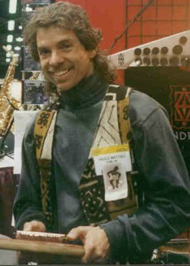 Paulo Mattioli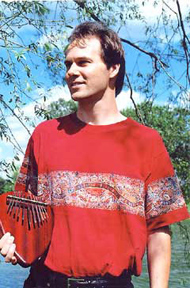 "Lucinda Ellison's Embira™ is a fascinating instrument offering the contemporary percussionist a new world of sounds that can be used in a variety of musical contexts."
- N. Scott Robinson, Percussionist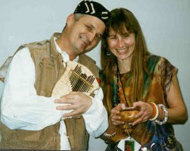 Arthur Hull and Lucinda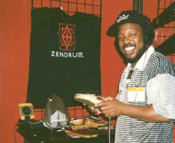 Leon Mobley
"This is phat!"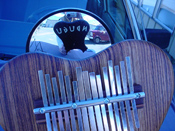 Ndugu's Embira in the mirror, Zebrawood top, Wenge body, inlaid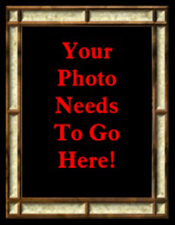 I would love to have a  photo and news of you and others playing the Embira™ or other thumb pianos I have made!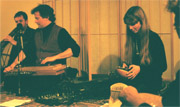 David Hykes, with Steven Kent, and Lucinda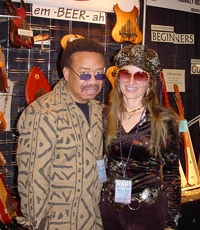 with Maurice White
at the Electrikalimba Jam,
NAMM 2003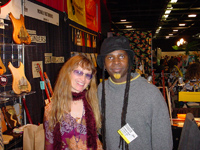 Vernon Reid shopping for his
new EmbiraTM.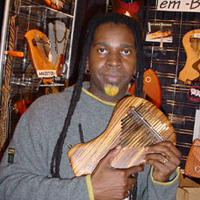 Vernon Reid with his
new EmbiraTM.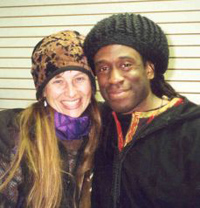 "Lucinda's electric Mbiras are an Indigenous-futuristic, Sonic experience...the infectious tones, and beautiful craftsmanship, or should I say craftswomanship, make this instrument a unique addition to any artist's musical performance library. Your Embira™ is reaching the world!"   
-  Will Calhoun, Drummer, World Music Artist, Producer for Living Colour,  Mos Def, Pharaoh Sanders, & theWill Calhoun Quintet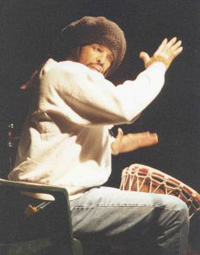 "I brought out over 40 instruments at an Artist in the Schools conference …the hit of the day was when I played the beautiful Embira™"
- Mustafa Abdul-Aleem, Drummer, Educator, African Culture University
Tom Roady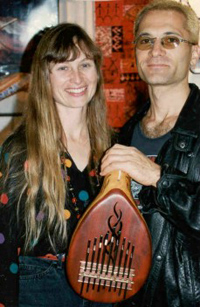 Lucinda and Kalani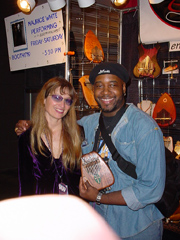 Ron Carter with his favorite EmbiraTM maker